---
In this mixed media class, students will push the traditional drawing mediums of india ink, charcoal, and graphite into new directions. We will brush on, splatter, drip, pour, and spray india ink, and use charcoal and graphite in unconventional ways. The results are never the same twice! Students will always discover something new. 
Participants will be guided through an investigation of these materials individually and then in combination, manipulating their properties into a cohesive final work of art.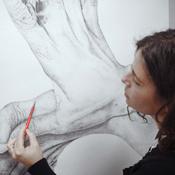 About the instructor, Dana Harel:
Dana Harel was born and raised in Tel Aviv, Israel. She received a Bachelor of Architecture degree from the California College of the Arts in San Francisco. Harel's drawings evolve organically, fusing themes of man and environment. Her understanding of form through architecture leads to transformative depictions of human and animal, offering us an idea and not solution to our own internal struggle. Harel's exhibitions have appeared in galleries around the world.
---
---
RELATED: