Combine drawing with collage-making in this workshop led by artist Dana Harel. Choose from a rich variety of images to create your own collage and then learn the process of transferring your work to Bristol paper, which you'll embellish with traditional drawing materials for a truly unique masterpiece.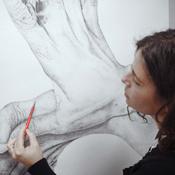 About the instructor, Dana Harel:
Dana Harel was born and raised in Tel Aviv, Israel. She received a Bachelor of Architecture degree from the California College of the Arts in San Francisco. Harel's drawings evolve organically, fusing themes of man and environment. Her understanding of form through architecture leads to transformative depictions of human and animal, offering us an idea and not solution to our own internal struggle. Harel's exhibitions have appeared in galleries around the world.
---
• Join & share on Facebook
---
INSTRUCTORS:
RELATED: